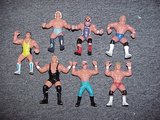 In 1990 World Championship Wrestling (WCW) in conjunction with the Galoob toy company released the first series of their figures to the world.
The World Wrestling Federation also had figures out at this time which were released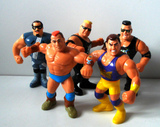 by Hasbro. Where the WWF released pretty much everyone on their roster. WCW's Galoob line went for realism and detail. The hasbro figures were clunky, disproportionate and had (sometimes) awkward actions. The Galoob line were moulded into one set pose and had no moving parts that would become wiggly over time. The attention to detail was great as you could identify the wrestler just by looking at it.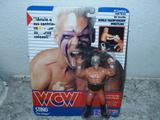 The original line-up was released in the USA, Canada and the United Kingdom. This Line-up consisted of Sting, Lex Luger, Rick Steiner, Scott Steiner, Ric Flair, Arn Anderson, Barry Windham, Sid Vicious, Ron Simmons, Butch Reed, Tom Zenk and Brian Pillman. These figures included a Championship Belt with WCW printed onto it.

The figures also came as double packs or Tag Team Packs. Sting & Lex Luger, Ric Flair & Arn Anderson, Rick & Scott Steiner, Barry Windham & Sid Vicious, Tom Zenk & Brian Pillman, Ron Simmons & Butch Reed.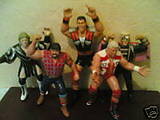 The figures sold well in the UK and the UK was lucky enough to see a second series of figures released. In this second series we saw Big Josh, Dustin Rhodes, Lex Luger in pre match attire, Sting in pre match attire, El Gigante, Michael Hayes (not pictured) and Jimmy Garvin (not pictured)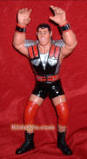 During the initial release Galoob also released rubber versions of the entire line with the poseable metal skeleton wire. Their paint jobs were different. The rarest of these is the Argentina Exclusive of El Gigante (released to his home country as a way to try to garner interest in the hometown hero).
Also released during the inital run were 14" versions of Sting, Lex Luger, Ric Flair and Sid Vicious with movement available in their neck, shoulders, waist and hips.
These four wrestlers also had miniature versions released of their moulded figure that was attached to watches and were about the same size as Starcom figures. These watches are super rare.
The second series of figures was bulked out with repaints of the original line-up with the exceptions of Tom Zenk and Butch Reed. Sting ended up with 4 figures in moulded version, three were the same but with different coloured pants. One blue, one orange, one red (from Spain) and one black. He also had a pre match attire figure.
There was a wrestling ring made for the figures which came with a snap-on steel cage, a spring loaded launcher for one of the ring posts and a set of ring steps with another spring loaded feature. With the second series the Fabulous Freebirds, Michael Hayes and Jimmy Garvin were made available as a Tag Team pack and also as a pack with a sound effects box for the ring (this set is highly sought after by collectors) A carrying case to hold and store the figures was released with the first series.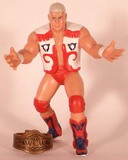 The Dustin Rhodes figure had one small detail the others did not have. His belt had an extra set of notches on it so that is fit around his slightly wider waist. This belt is harder to find as the ratio of it in relation to the other regular belts was 28-1 (taking into account the original 12, 10 repaints and 6 newer figures in the second series all having regular belts).
There was to be a third series of figures made and several prototypes exist. Diamond Studd, P.N. News, Ricky Morton and Ric Flair in pre match attire are incredibly hard to find as prototypes. The hardest to find prototype I know of is of Black Blood which did not even receive a paint job. Also Lex Luger had a new head scuplt made, which told of a newer figure to come.
With these figures on the market Galoob also went down a different road and built prototypes of Sting, Lex Luger, Sid Vicious, Ric Flair, Rick Steiner and Scott Steiner. These prototypes had movement in their shoulders and hips but also came with a voice feature. To date only ONE picture has existed of these prototypes.
This series of figures is highly collectible (especially the UK exclusives and repaints) and the contract ended before the third series was completed. Who knows who else would have been in the third series and what repaints would appear from series two?
All I know is that the prototypes and head scuplt of Lex Luger are the HARDEST to find of ANY of the Galoob line.