I recently had the opportunity to converse with Mary, a former LJN employee about her time their and some of the action figures she has come in contact with. I would like to thank her for the information she has gone out of her way to share by answering some of the questions compiled from members of the forum. Hopefully we can make this article the first in a series, answering collector's questions about LJN figure lines. Now, onto the interview:
What role did you have within the LJN company and what years where you associated with them?
I worked there from the late 70's until the end!!! I was in charge of consumer relations. Parts, broken toys, questions and answers, problems, you name it. Went on commercial shoots, I did a little bit of everything. LJN was a wonderful place to work and Jack Friedman the president had incredible insight into what would be a great next license toy line and he was usually right. Things were different in those days. 200 Fifth Ave was the toy capitol of the world and every February, 23rd Street and 5th Ave was a mecca of toys, costumed characters, movie and TV stars parading in the street in front of the buildings (1107 Broadway and 200 Fifth avenue). It was not opened to the public but buyers from all over the world converged there for nearly 2 weeks in February every year. Parties & events nearly every night. Nothing was spared to schmooze the buyers . It was as close as you could get to Hollywood and Disneyland combined with out going there. Ahhh...There will never be a time in toy history like that again. Everything now is so impersonal. I am so glad I was at the right time and place in toy history. Great memories, great people and wonderful times.

Did the Mad Bubbler from the Thundercats line ever reach the prototype stage and are their possible any figures of him out their somewhere?
Ahhh - the holy grail of Thundercats questions - prototypes of this figure were made, did they get it to blow bubbles? I think so. How many? Not sure but not many. Are there some out there? I am sure there might be one!!!


What Tigersharks figures were slated for production and got scrapped? Are their any known prototypes that exist for them? What stage did Dragonstein make it to before it got scrapped?
Dragonstein did get to the prototype stage only, there were other figures considered such as grunt, shad the bad, & walleye, but i never saw prototypes of these figures just conception drawings of these figures.

Were there early designs for any other future figures/vehicles/playsets (Prof. Sharp, the jet, etc) for the Bionic Six line? Why was the second wave of Bionic Six scrapped?
Usually a line is discontinued because the company does not get the numbers (quantity purchased by the toy stores) to make it worth it to continue the line, or the popularity dwindles. I never saw any other prototypes considered for the Bionic Six line.

Were there plans for more WWF LJN figures beyond the last series that was released commercially? If so, what were the names of these proposed figures and are their any prototypes out their?
I am sure there were, there were so many wrestlers in those days I am sure many of them were thought of to extend the line if it continued. I am only sure of the thumb wrestlers and the 8" figure that I have as prototypes. Are there more out there? I really don't know!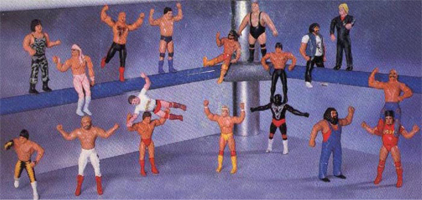 Did 3 3/4 inch figure scale Vehicle Force Voltron toys ever reach the prototype or test shot stage, or were they simply never considered?
To my knowledge 3 3/4 in figures were never considered for Voltron, at least I never saw or heard of any prototypes being commissioned.


Were Switchbots ever released in giftset form? Like "Good Combiner" or "Evil Combiner" box sets?
I don't remember Switchbots ever released as gift sets.

About the Thunderstrike for the Thundercats line, the Feliner was supposedly never released but two protoypes surfaced. Is it possible that the Thunderstrike was made in significantly limited quantities or do prototypes exist?
To the best of my knowledge the Feliner was never manufactured. A number of prototypes were commissioned and there might possibly be a few more out there.

Do/did you have access to production numbers for any of the LJN action figure lines?
During my time at LJN I did but I don't remember the quantities now.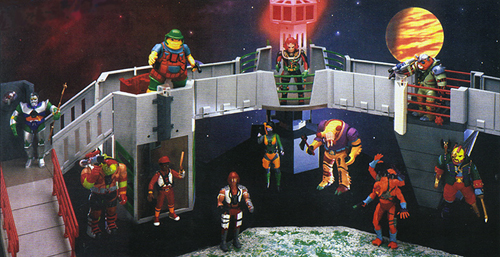 Are their any unknown or unreleased action figures from any of the LJN lines that you currently own? If so can you name them?
Prototype figures from the following lines:
WWF Thumb Wrestlers, WWF 8" figures. Sergeant Slaughter, never manufactured 8" figure (prototype) & hand painted prototypes of many 8" wrestlers in the line
Indiana Jones line, Willie Scott & 2 versions of Short Round (prototypes)
"V" 5" figures (prototypes)
AD&D - never manufactured 2 big dragons, Tarrasque creature wind up, Valkeer 4" figure, Pulvereye Shield Shooter (& prototypes of most of the line)
Dune figure Lady Jessica (prototypes)
Photon, Tivia, Uncle Pike, Parcival, Bugarr, Dogarr, were never manufactured. (I do have and have sold prototypes of these figures and I have some of the manufactured figures as prototypes also) to the best of my knowledge a playset for these figures was never planned (the figures ware too big) and I don't remember any other characters planned for the line.
Thundercats first version sculpts (Snarf, Ram-Bam, Panthro, Berbils (hard cast painted prototypes) of some of these figures, different from the manufactured figures. ( I also have hand cast/hand painted prototypes for most of the figures & creatures in the line)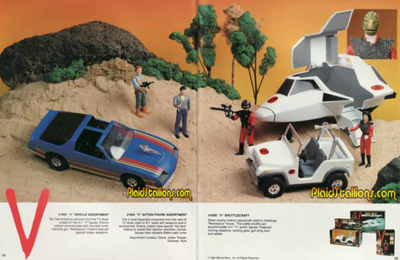 I am sure there are a lot that I can't remember at the moment as I have most of this collection still packed away and have been opening boxes as I come across them.